Solar Balcony Structure System(ZAM)
MG Solar

China

Within 7 days

2000Set/Sets/Week

1Set/Sets

US $19.69~21.32Set/Sets
This balcony mounting design can affix to most common size balconies. With all pre-assembled parts, the installation can be done in a very short time.
Solar Panel Balcony Mounting Structure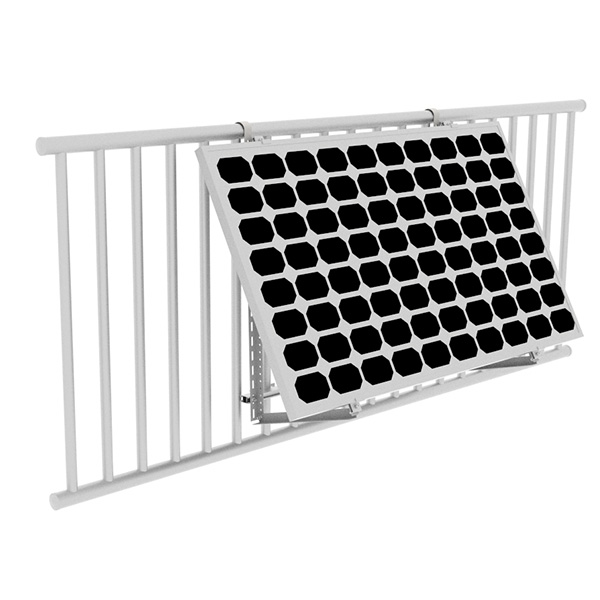 Product Description

MG solar balcony mounting structure has the most advanced technology and the special advantages of ZAM material, which is a new environmental friendly material with strong corrosion resistance by adding the right proportion of zinc, aluminum and magnesium components to form a composite effect, and it is a pre-assembled mounting structure for solar PV installation to high rise balconies. This balcony mounting design can be affixed to most common size balconies and every inch of space is effectively utilized. The installation can be completed in a very short time due to all the pre-assembled components.
Technical Information
| | |
| --- | --- |
| Installation Site | Balcony |
| Module Orientation | Landscape |
| Module Type | Framed |
| Material | ZAM |
| Tilt Angle | 0°~ 30° |
| Warranty | 12 Years |
Features & Benefits

Simple and fast installation with all pre-assembled parts, simply need to be unfolded and secured to the balcony for installation.

Excellent corrosion resistance and durability


Solar Balcony structure can be attached to the balconies of buildings directly, requiring very little space while generating sustainable energy for daily use.

Balcony structure type A
Balcony structure type B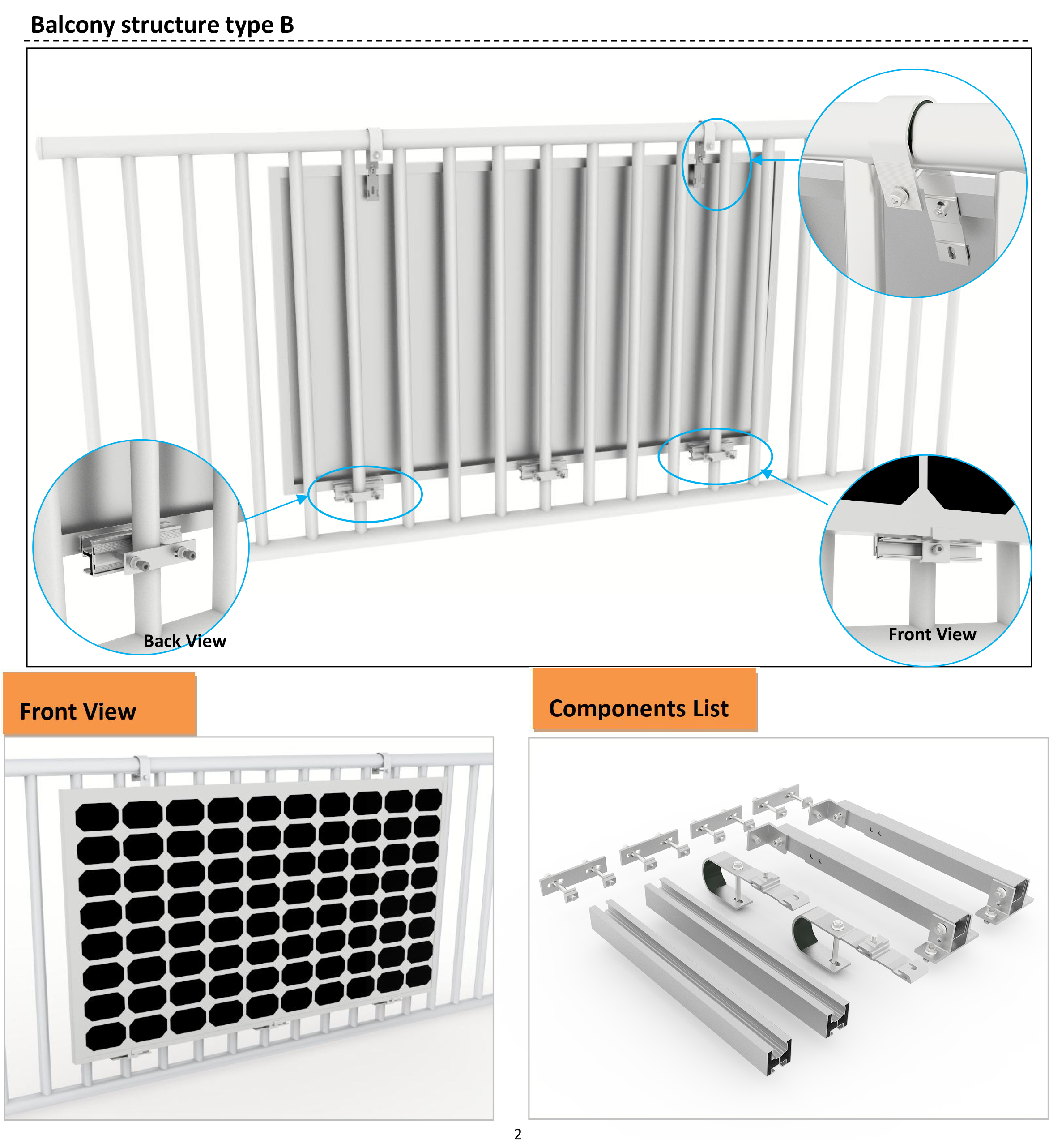 Balcony structure type C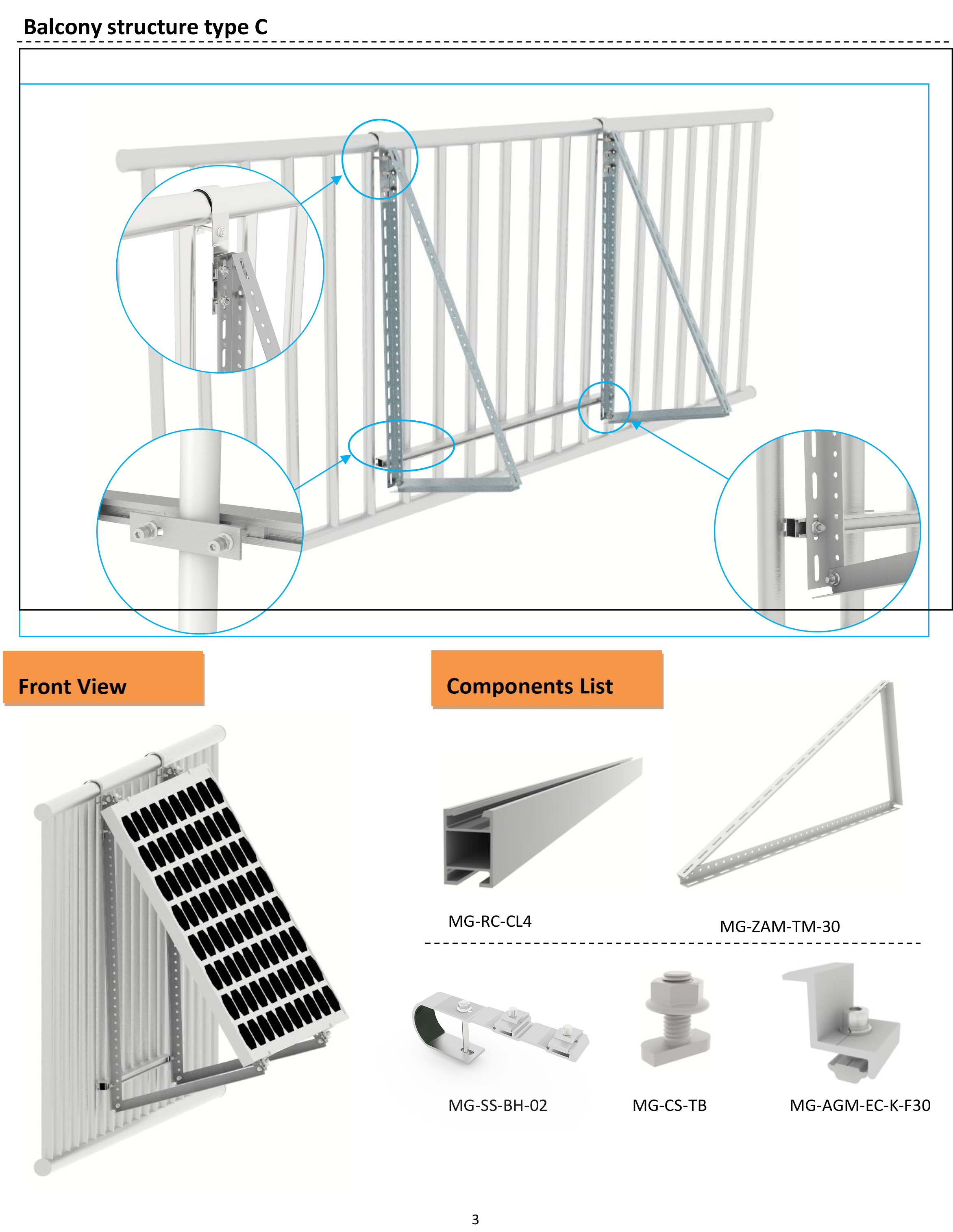 Project Reference

FAQ
Q: What materials are used in the Solar Balcony Structure System?
MG SOLAR:We provide two materials : ZAM galvanized steel and aluminum alloy 6005-T5 .
Q: Is the system adjustable?
MG SOLAR:Yes, it has a tilt angle that ranges from 0° to 30°.
Q: How long is the warranty ?
MG SOLAR:Yes, all styles come with a 12-year warranty.
Q: Do I need a large balcony to install this system?
MG SOLAR:No, our Solar Balcony mounting design can affix to most common-sized balconies, and can be easily installed by 1-2 people.
Q: Where will the balcony structure be installed?
MG SOLAR:Usually it is installed on the balcony with a curved hook. But it can be also installed on the wall with expansion bolts.
Click here to contact us for more product details!